Last Updated on 18/10/2020 by Hrithik V
Epic Games have taken the tech giant, Apple to the court due to a dispute caused by the violation of rules and guidelines. "Epic Games" is a huge name in the gaming industry which can be attributed to release of several blockbusters like Fortnite, Gears of War franchise, Rocket League as well as developing Unreal Engine which runs several games like Infinity Blade 3, Unreal Tournament and many more. Epic Games CEO Tim Sweeney has criticized Apple's predatory behaviour in terms of monetization. In an interview with CNBC, he said: "Apple has locked down and crippled the ecosystem by inventing an absolute monopoly on the distribution of software, on the monetization of software."
Sweeney also expressed his discontent towards Apple's App Store's and Google's Playstore's 30% store fees which seems quite exploitative as the stores are making more than the developers without any form of developer investment.
On August 13th, Epic Games introduced a direct option to buy V-bucks (currency for Fortnite) from its application with a 20% discount which violates Apple's App Store Guidelines. Epic followed a similar move with its android version of the game and violated the guidelines of Playstore. Epic made this move as they found the 30% fee for in-app purchases exorbitant and exploitative while services like Uber, StubHub, etc were excused from the fee. Apple and Google responded by removing Fortnite from their app stores due to a violation of guidelines. Some found Epic to be hypocritical as Sony and Microsoft charge 30% for PS4 and Xbox versions of Fortnite but the company has a neutral stance towards them.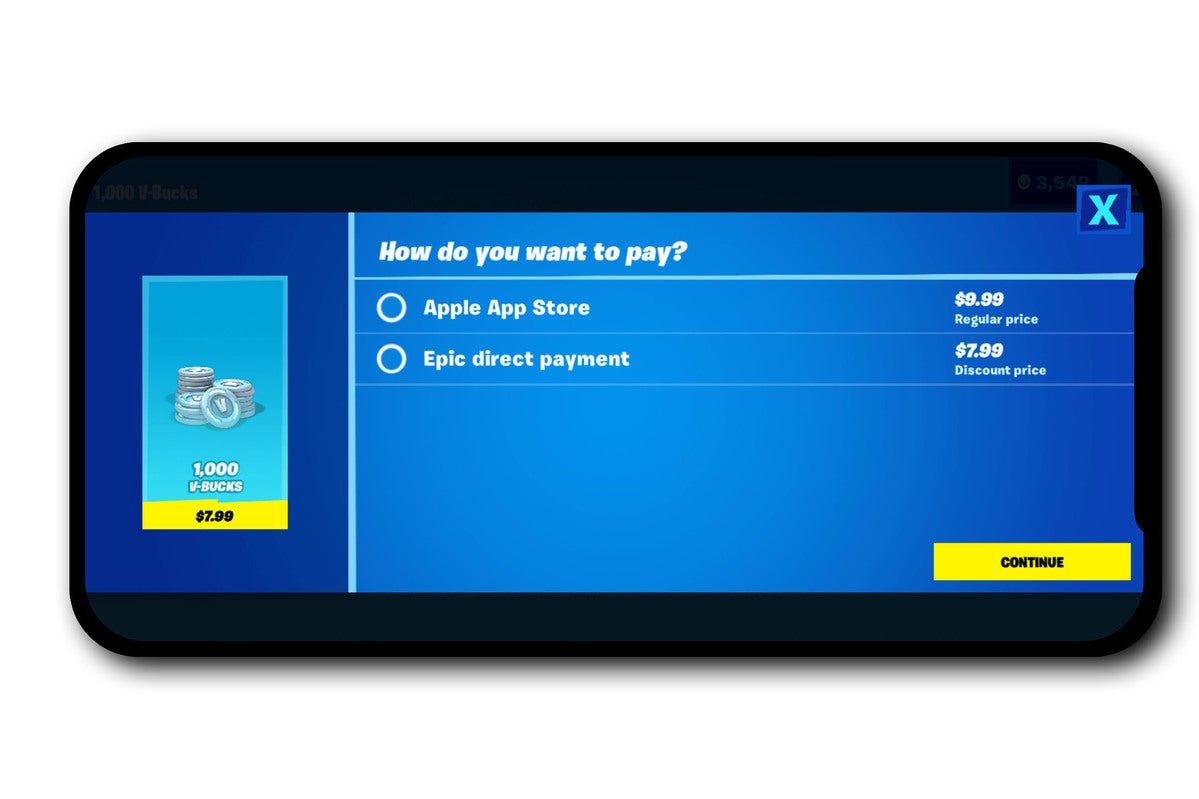 Apple gave a statement to MacRumors :
"Epic Games took the unfortunate step of violating the App Store guidelines that are applied equally to every developer and designed to keep the store safe for our users. As a result, their Fortnite app has been removed from the store. Epic enabled a feature in its app which was not reviewed or approved by Apple, and they did so with the express intent of violating the App Store guidelines regarding in-app payments that apply to every developer who sells digital goods or services.
Epic has had apps on the App Store for a decade, and have benefited from the App Store ecosystem – including its tools, testing, and distribution that Apple provides to all developers. Epic agreed to the App Store terms and guidelines freely and we're glad they've built such a successful business on the App Store. The fact that their business interests now lead them to push for a special arrangement does not change the fact that these guidelines create a level playing field for all developers and make the store safe for all users. We will make every effort to work with Epic to resolve these violations so they can return Fortnite to the App Store."
Epic Games retaliated by filing a lawsuit against Apple in California which can be accessed via this link. Epic accused Apple of having unfair and anti-competition actions which make them support things that they rallied against initially. Epic Games then soon released a virtual ad release by hosting a screening in the game. Epic has been successful in gaining the attention of several users worldwide by hosting virtual events like screening of Chris Nolan's movies, Travis Scott's virtual concert, etc in Fortnite. They used this platform to screen the "Nineteen Eighty Fortnite" ad parody that takes a jab at Apple who previously depicted IBM as the evil Big Brother in their ads. Epic games then released a blog, urging players to stand with them and use the hashtag #FreeFortnite on social media.
Epic Games also filed a lawsuit against Google Play Store but interestingly, Epic didn't take such an aggressive approach against Google Playstore which can be attributed to the game still being available on Samsung App Store and can be directly downloaded on Android phones via Epic's website.
Apple made a bold move of threatening to cancel the Epic Games developer licence and gave them 14 days to make modifications. In a letter from Apple to Epic games, Apple stated that:
"Upon further review of the activity associated with your Apple Developer Program membership, we have identified several violations of the Apple Developer Program License Agreement. Therefore, your Apple Developer Program account will be terminated if the violations set forth below are not cured within 14 days. […]
If your membership is terminated, you may no longer submit apps to the ‌App Store‌, and your apps still available for distribution will be removed. You will also lose access to the following programs, technologies, and capabilities:
– All Apple software, SDKs, APIs, and developer tools
– Pre-release versions of iOS, iPad OS, macOS, tvOS, watchOS
– Pre-release versions of beta tools such as Reality Composer, Create ML, Apple Configurator, etc.
– Notarization service for macOS apps
– ‌App Store‌ Connect platform and support (for example, assistance with account transition, password reset, app name issues)
– TestFlight
– Access to provisioning portal for certificate generation, and provisioning profile generation
– Ability to enable Apple services in-app (i.e. Apple Pay, CloudKit, PassKit, Music Kit, HomeKit, Push Notifications, Siri Shortcuts, Sign in with Apple, kernel extensions, FairPlay Streaming)
– Access to Apple-issued keys for connecting to services such as MusicKit, DeviceCheck, APNs, CloudKit, Wallet
– Access to Developer ID signing certificates and Kernel Extension signing certificates
– Developer Technical Support
– Participation in Universal App Quick Start Program, including the right to use the Developer Transition Kit (which must be returned to Apple)
– Engineering efforts to improve hardware and software performance of Unreal Engine on Mac and iOS hardware; optimize Unreal Engine on the Mac for creative workflows, virtual sets and their CI/Build Systems; and adoption and support of ARKit features and future VR features into Unreal Engine by their XR team.
We hope that you are able to cure your breaches of the Apple Program License Agreement and continue to participate in the program."
Getting their developers licence cancelled will cause issues to several developers as the majority of high performing mobile games use the Unreal Engine which is designed by Epic Games. Epic Games is trying to form a coalition of companies that are against Apple's business practices. Spotify hasn't joined the coalition but has supported Epic's stance on fighting against Apple's abuse of power. Even though companies have supported Epic's views regarding the matter, it seems pretty sceptical whether they will sign a coalition or not.
On 28th of August, Apple terminated Epic Games developer account after giving them a 14-day notice to launch a version of Fortnite that is compliant with AppStore's rules and guidelines. Epic tried to get an injunction to prevent Apple from terminating their account but the court ruled against it and said that all the losses caused during the time that Fortnite is off the AppStore will be born by Epic Games as they made a conscious decision of breaking the existing agreement with Apple.
We'll be updating the article with the latest happenings in this legal and messy dispute between Apple and Epic games.